Maths
At Woodfield, we use a range of different resources and techniques to support the children with their learning. Like many subjects, it is really important that child practise their Maths recall skills little and often to help to stick in their memories. When learning facts such as number bonds, doubles and halves and times tables, it is regular practise little and often that makes the difference. This is something that parents can help their children with at home, asking them a few questions each day will help your child to be able to recall the fact quickly and use it when they are solving trickier questions.
To help support the learning at home, children use Timestable Rockstars, and Numbots to help them to practise and learn in a fun way. Your child will have a log in for these websites. Please speak to your child's class teacher if you need them again.
As well as it being really important for children to be able to recall these number facts, it is also important that they learn how to solve different problems and reasoning questions. To help with this, we have created a range of alien question characters. These are used consistently across the school and help the children to learn the methods needed to answer different types of questions.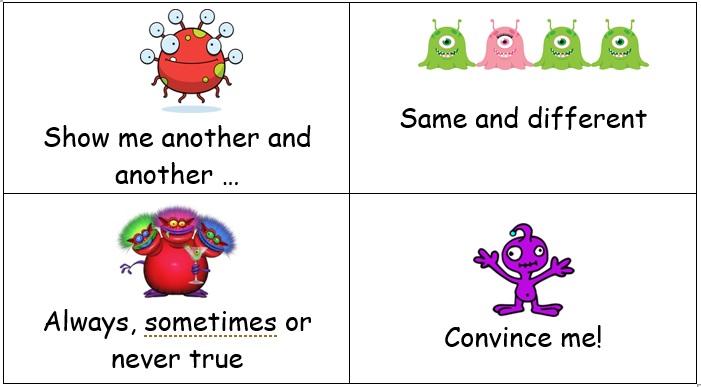 We often hear parents saying 'My child is like me, I was rubbish at Maths when I was at school'. If you feel that this is something you might say, and you would like support on how you can support your child with their maths learning, please speak to your child's teacher.